COURSE: THE 13-STEP ENTREPRENEURIAL BLUEPRINT FOR STARTING AND GROWING YOUR BUSINESS
The Entrepreneurial Blueprint for Starting and Growing Your Business is a text-based course that will show you how to get an idea for a business—how you figure out exactly what it is you want to do and then how to take-action on it.
The Course is formatted as a comprehensive outline – A 13-step journey of the major considerations in conceiving, launching, and growing a new venture.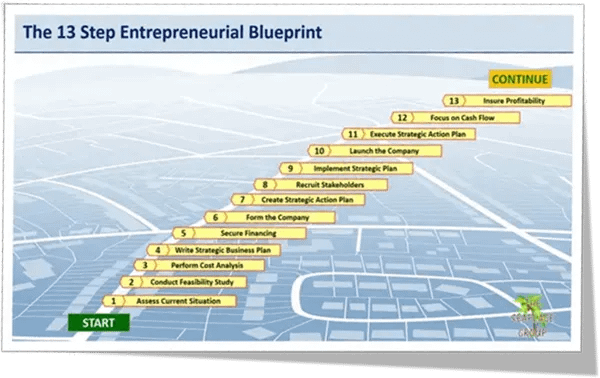 Some of the most important things you will learn include:
It is not how much you earn but how much you spend that determines your financial situation.
Just because a business is profitable does not necessarily mean it is immune from becoming bankrupt.
Why the best location is the one that is closest to your biggest and most successful competitor.
It is not just about profit. What is important is building value.
Why the business plan is an essential roadmap for business success, and how to write an effective business plan that projects 3 to 5 years ahead and outlines the route your company intends to take to reach, maintain and grow revenues.
Why you should borrow more than what you need and how to determine when to get financing.
How to get the most out of your relationship with your banker.
Investors want to put their money with someone who will respect their investment.
A company's valuation is based on perception and is usually emotional.
How to insure the profitability of your small business.